The COVID-19 crisis has changed life as we know it around the globe. This includes the way we prepare for retirement and the strategies that are used for protecting loved ones in case of the unexpected. Because of that, it could be beneficial to get a checkup of your retirement income plan, as well as your insurance protection, because yesterday's strategies could be outdated in the "new normal," post-pandemic world. As a result of both the health and financial impact of the COVID-19 pandemic, many people now have a heightened awareness of the fragility of life, as well as the need to provide financial security for themselves and their loved ones.
Unfortunately, though, during tough times insurance companies frequently modify, create and possibly even discontinue certain types of coverage and features in order to reflect current economic conditions and to anticipate future trends. This, in turn, can sometimes make it more difficult for consumers to achieve financial peace of mind.
When it comes to insurance products – which include life insurance coverage and annuities – the insurers that offer this type of protection want to know that they're not taking on too much risk when they accept someone for a policy.
In this case, insurers must pay out life insurance benefits when someone dies "too soon," and continue making annuity income payments to those who live "too long." Given the vast health-related changes that the coronavirus has brought to the forefront, then, there could be both drawbacks and advantages when applying for these financial vehicles in the future.
How have annuities and life insurance changed as a result of the coronavirus?
The sudden economic downturn in 2020 – along with the other challenges posed by the pandemic – changed the landscape of insurance and annuity buying options – starting with the fact that it could be more challenging to obtain these financial vehicles.
If you already have life insurance in place, the good news is that in-force policies won't likely see any changes in the benefits due to the coronavirus. For example, if an insured dies of the COVID-19 virus, the policy's proceeds will still pay out to the beneficiary.
But don't get too settled here, because if you have a term life policy that expires and/or employer-sponsored life insurance that goes away if you get laid off, you may need to apply (or reapply) for individual coverage – and due to the COVID-19 outbreak, there have been some changes put in place with regard to new policy exclusions, along with new rules and rate changes.
Has locking in financial security and a lifetime income stream become more difficult?
With the recent cut in interest rates, fixed income investments like bonds and CDs have become less attractive to investors and retirees – especially given that their low interest can't even meet, much less beat, inflation. For those who are in or approaching retirement, this can put a damper on current and future purchasing power.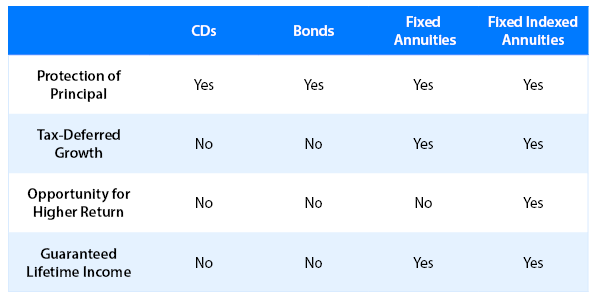 This is where fixed and fixed indexed annuities can come into play, though. In fact, in some instances, annuities may even present returns that are two – or even three – times as high as the 10-year treasuries, which have fallen to under 1% in early 2020.
These types of annuities can also lock in previous gains and keep principal safe from future market downturns that may occur. But, will annuities become more difficult to purchase going forward?
Possibly.
In fact, amid stock market volatility and low interest rates, some insurers have been providing fewer options on their annuities, and in some instances, even pulling certain products off the "shelves" altogether.
The same may hold true for purchasing life insurance protection – a product that could be in high demand given our recent reality check on just how quickly the unexpected can occur. For instance, some of the trends that could have an impact on purchasing life insurance include:
Reduced maximum age for applicants. Although a number of insurance companies will accept applicants for coverage who are well into their 80s, some are no longer selling policies to those who are 70 and older – and a few are even postponing applications that were pending from applicants in that age group prior to the COVID-19 pandemic.
Shorter length of term life insurance coverage. Another way some insurers are pulling back the reins is by doing away with longer link text policy durations. For instance, Prudential has suspended selling its 30-year term life plans (although policies with shorter durations remained available).
No temporary coverage. In the past, life insurance applicants oftentimes had the option of being "temporarily" covered – even before their coverage was officially issued – when they submitted the application. However, since the coronavirus outbreak, some insurance carriers discontinued this feature.
No medical examination required. Typically, "fully underwritten" life insurance policies (i.e., those that require a medical exam before approval) commanded a lower amount of premium as compared to "no exam" policies. Such exams usually consist of a paramedical professional taking a blood and urine sample, as well as checking blood pressure and various other stats. Today, though, the life insurance medical exam has become non-essential, due in large part to the personal contact that is required to perform one. With that in mind, this could pose an opportunity to purchase more life insurance coverage at an attractive price.
More online applications. While the insurance industry has been slow to move into the world of cyber applications, the COVID-19 crisis has definitely been a catalyst for it to move forward. Even so, while purchasing life insurance via the Internet (versus talking with a financial professional) may be convenient, it could also result in an insufficient amount of coverage.
Are you ready to visit with a retirement income planning specialist?
Now more than ever, it is essential to make sure that you'll have a reliable income stream in the future, as well as financial protection for those you love – just in case. But even if you already have a plan, it is important for you to determine if what worked in the past will still be a viable solution going forward.
Alliance America can help
Alliance America is an insurance and financial services company. Our financial planners and retirement income certified professionals can assist you in maximizing your retirement resources and help you to achieve your future goals. We have access to an array of products and services, all focused on helping you enjoy the retirement lifestyle you want and deserve. You can request a no-cost, no-obligation consultation by calling (833) 219-6884 today.