If you are a family caregiver, you are not alone. A joint caregiving report from AARP and the National Alliance for Caregiving estimates that more than 48 million caregivers are caring for someone over the age of 18. This translates to over $470 billion of unpaid care. Caregiving is woven into all aspects of life and in every community.
Some key findings of the study:
On average a caregiver is 49.4 years old with the care recipient being 68.9.
The majority of caregivers fall into these classifications: baby boomers, millennials and Generation X.
Caregivers are performing more and more complex medical tasks. Yet, caregiving also entails such activities as grocery shopping, medication management, advocacy and companionship.
Anyone can be a caregiver. This includes grandchildren, nieces, nephews, siblings, friends, spouses, in-laws and parents.
As our population ages and support services decline, family caregiving is growing. Some of this is due to financial necessity as families are unable to pay for private caregiving services.
The impact of COVID-19 on caregiving
The impact of the COVID-19 pandemic on seniors cannot be overstated. This includes social isolation, a disproportionate amount of deaths and changes in the way we view senior living communities. Older Americans often choose senior living because they need support and are attracted to amenities such as activities, transportation, meal preparation and social connection. Although the consequences of severe restrictions in senior communities have been extremely challenging, there have been some positive outcomes:
People now recognize that social isolation is a serious and persistent problem for older adults. And this was before the pandemic.
Families have had to assume a greater caregiving role even if they had none at all before. With older adults confined to their apartments, family members have had to coordinate telehealth visits, do shopping and find ways of checking in on someone's well being without being able to visit.
To stay connected while isolated, older adults need access to and training to use technology. This is where younger people come in. There are countless stories of younger people helping an older generation learn to connect through technology. Imagine the possibilities of a generation of younger adults willing to help seniors learn a smartphone, how to use video conferencing and connecting to Facebook and Instagram?
COVID-19 has brought generations together in the same household. Students are living with their parents, people out of jobs have moved back home and older adults are being cared for amid these multi-generational households. To protect older adults from the virus, everyone has had to step up their game. Younger people are being exposed to a new level of responsibility and most of them have responded.
If someone is in senior housing and is receiving family caregiving, that has been curtailed due to visitation restrictions. In these cases, private caregivers are hired or people go without care altogether. In other cases, older adults are being moved out of senior housing to live with family. This decision can significantly increase caregiving responsibilities, but for many people being with family is a quality of life issue and well worth it.
The benefits of caregiving
There is a preponderance of evidence about the strain and stress of caregiving. The physical, emotional and financial stress of caregiving is well documented. Yet, there is another side to the story. Despite caregivers' reports of stress, they also talk about the benefits of caregiving.
Caregivers report that caregiving gives them a sense of purpose. Helping another human being, whether it is from a feeling of duty or compassion, increases positive emotions. Caregiving is the job of making another person's life better.
The act of caregiving requires empathy, which can strengthen relationships. This is not to suggest that every caregiving experience will strengthen family ties, but many do. The dynamic of relationships change during caregiving, but this can be an opportunity to grow closer.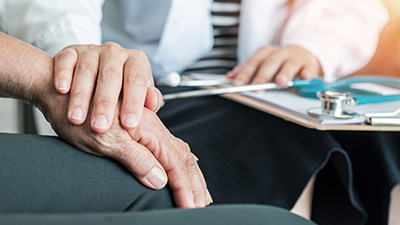 You may have to set aside personal grievances or conflicts. This can open the door to a healthier and more satisfying relationship.
Caregiving requires a flexible, selfless and resilient attitude. It is a combination of compassion, empathy, learning, stress and satisfaction. Learning how to deal with the inevitable frustrations and anxieties builds a reservoir of confidence. Problem-solving is a fundamental task of caregiving, and this skill applies to many other aspects of life.
Although each caregiving journey is unique, there is a significant foundation of support online and in the community. There are caregivers support groups, hands-on videos, disease-specific websites and caregiver forums. Making these connections can be life-changing in positive ways. Caregivers report a sense of camaraderie and community through meeting other people who have similar experiences.
Caregiving is a crash course in aging and disability. As a family caregiver, you learn about insurance, the health care system, senior housing, durable medical equipment, support services, advance directives and end-of-life care. What better way to prepare for your aging or that of another family member or friend?
Younger people exposed to caregiving have a greater appreciation for an aging population, something we could use. We will need everyone to help change perceptions about aging. Only through respect and appreciation for older adults can we start to change our attitudes and policies.
The exposure of problems in the nursing home industry has increased awareness of long-standing problems. As a society, we now see the way our elders have been treated and there are already efforts being made to change the industry. Families have taken notice and are making their voices heard to protect their loved ones. Caregivers are advocating for better care and taking greater control.
Caregiving is a contribution to another person, but it is also a contribution to society. The benefits to both are immeasurable. Even with increased support for caregivers, there will always be a need for us to take care of one another. Caregiving at its heart is an act of compassion.
Alliance America can help
Alliance America is an insurance and financial services company. Our financial professionals can assist you in maximizing your retirement resources and achieving your future goals. We have access to an array of products and services, all focused on helping you enjoy the retirement lifestyle you want and deserve. You can request a no-cost, no-obligation consultation by calling (833) 219-6884 today.