It's hard to surf the web without encountering an article or two, or three, about plant-based eating. The plant-based diet has gotten a lot of attention for its array of health benefits, and for good reason. This antioxidant-rich eating plan can improve health of the heart, immune system and gut. However, you don't have to go completely meatless to reap the benefits of this eating regimen. This article discusses the plant-based diet in its various forms and how it can help you improve your quantity and quality of life.
What is the plant-based diet?
The plant-based diet is one that consists mainly of plant-based foods such as fruits, vegetables, nuts, seeds and whole grains. This type of diet may be viewed as one that is very restrictive since some people interpret it as a vegan diet plan. However, a plant-based diet can come in various forms, all of which the person following such diet can greatly benefit.
Various forms of the plant-based diet include:
All plant-based foods and no animal products:

This eating plan focuses on fresh, whole plant-based foods only and no animal products.

Mostly plant-based foods and few animal products:

This eating plan focuses on mostly fresh whole, minimally processed plant-based foods and limits animal products.

Intake of processed plant-based foods and few whole plant-based foods and animal products:

This eating plan focuses on less healthy plant-based foods such as fruit juices, refined grains potatoes and sugary drinks. Refined grains consist of pasta, bread and rice. This eating plan limits animal products, but unfortunately it limits fresh whole plant-based food intake as well.
Research shows that the forms of the plant-based diet with more fresh whole plant-based foods led to lower risk of heart disease.
What health benefits can the plant-based diet provide?
The health benefits of the plant-based diet stem from the plethora of nutrients found in such foods. For example, fruits and vegetables in general provide a variety of nutrients including:
Fiber:

Vital for digestive health; found in all fruits and vegetables, but in high amounts in beans, berries, lentils and apples

Calcium:

Important for bone health; found in foods like collard greens, spinach and soybeans

Potassium:

Important for heart health by controlling blood pressure; found in high amounts in beans, but is also found in bananas, sweet potatoes and broccoli

Magnesium:

Vital in a variety of health processes such as bone and heart health; found in high amounts in almonds, Brazil nuts, pinto beans and spinach.

Vitamins A and C:

These antioxidant vitamins are important for reducing inflammation in the body; vitamin A helps eye health, while vitamin C helps immune system health; found in carrots, lettuce, spinach, sweet potato and watermelon, to name a few
What does research say about the plant-based diet?
Research on plant-based diets is vast, with results showing great promise for this diet to help many improve live their best life. Read through the chart below for a summary of some of the latest studies on the plant-based diet.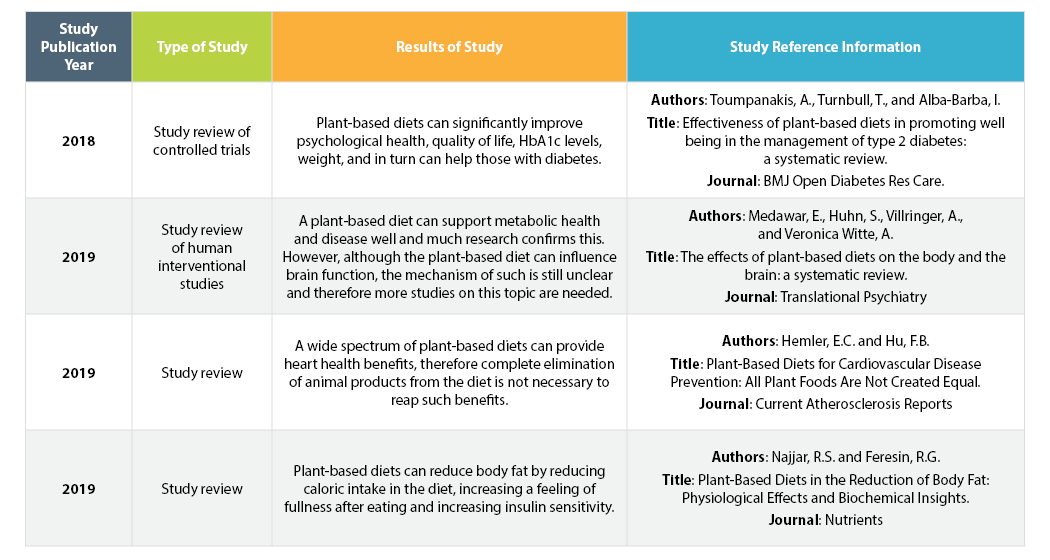 How can you start the plant-based diet today?
Changing your diet takes a lot of hard work and commitment, but it doesn't have to be stressful. Take your plant-based journey one day at a time and one small change at a time. This means that each week, change one unhealthy behavior into a healthier one that aligns more with the plant-based regimen. Here are some simple behavior changes you can make to get you started.
Add one new plant-based food to your daily routine each week:

By simply adding a new fruit or vegetable to your eating routine every week, you can expand your palate and improve your health. And in turn, adding new fruits and vegetables to your routine will allow your body to take advantage of the diverse nutrients and antioxidants every family and color of produce provides.

Replace processed snacks with fresh produce or nuts:

Instead of salty chips or sweet candy bars, instead add in raw vegetables and fruit like baby carrots, bell pepper slices or apple slices. Pair fruit with nut butter and vegetables with healthy spreads like hummus for extra fiber and plant-based nutrients.

Volumize soups by adding pureed steamed vegetables instead of cream:

Instead of adding a bunch of calories to soup with cream or milk, instead puree steamed cauliflower, broccoli or sweet potatoes and add to soups to thicken.

Add a fruit and vegetable smoothie to your daily routine:

A smoothie containing antioxidant-rich berries along with leafy greens combined with your favorite plant-based milk, for example, is an easy way to fit more plant-based foods into your day.
So, is the plant-based diet right for you?
No one diet is right for everyone. The best diet for you will be the one that you are able to comply with and one that makes you feel your best inside and out. Therefore, not everyone needs to go completely meatless to enjoy the benefits of the plant-based diet.
Also, you can benefit just by reducing your intake of highly processed foods and replacing them with more whole, unprocessed foods. By doing this, you will increase fiber intake as well as reduce salt and sugar intake, which will benefit your gut and in turn your overall health. So, start adding more plant-based foods to your diet today to start feeling your best. And if you're not sure where to start, don't hesitate to contact a registered dietitian to help you get started.
Alliance America can help
Alliance America is an insurance and financial services company. Our financial planners and retirement income certified professionals can assist you in maximizing your retirement resources and help you to achieve your future goals. We have access to an array of products and services, all focused on helping you enjoy the retirement lifestyle you want and deserve. You can request a no-cost, no-obligation consultation by calling (833) 219-6884 today.