Since muscle mass and bone mass are vital for mobility, then it's important to consume enough nutrients that support such aspects of health.
Bone health
When it comes to bone health, you should make sure you are consuming enough calcium and vitamin D daily. Adults 51 years of age or older should consume at least 1,200 milligrams of calcium daily. You can take a supplement daily to meet your calcium needs, or you can include calcium rich foods in your diet each day.
Cow's milk and milk-based products like yogurt, cottage cheese and cheese
Canned sardines
Leafy green vegetables like kale, broccoli and bok choy
Fortified beverages such as fruit juices and plant-based milks like soy or almond milk
Tofu and cereals that are fortified with calcium
Note: Certain medicines can interfere with calcium absorption, so be sure to speak with your doctor to make sure you are not taking any medicines that may impact your bone health. And if you are taking such medicines, speak to your health care team about ways you can maintain good bone health under such circumstances.
You should know however that consuming vitamin D with calcium is vital for optimal absorption. Adults between the ages of 51 and 70 years should consume at least 600 IU (15 micrograms) of vitamin D daily, while those over the age of 70 years should consume at least 800 IU daily (20 micrograms).
Vitamin D is in supplement form or in foods like:
Vitamin D fortified cereals
Fatty fish like salmon or trout
Vitamin D fortified milk
Cod liver oil
You can also absorb vitamin D from the sunlight. Experts suggest that just five to 30 minutes of sunlight exposure in the midday hours (around 10 a.m. to 4 p.m.) at least twice weekly to the face, arms, hands and legs with sunscreen can assist with optimal vitamin D synthesis. However, older adults should not rely on sunlight to provide their daily dose of vitamin D since conversion of sunlight to vitamin D becomes more difficult with aging.
Muscle health
Protein is the major nutrient that supports muscle health. In fact, research shows that protein supplementation can help increase lean body mass and reduce fat mass in older adults when paired with physical activity like walking. Experts suggest a minimum of one gram protein consumed per kilogram of body weight. For example, if you weigh 200 pounds, then divide this by 2.2 to receive the minimum amount of protein you should consume each day. In this example, the 200-pound person should consume around 91 grams of protein each day.
Protein is in a variety of foods such as dairy products, eggs, meat, poultry, fish, seafood, beans, lentils and in whole grains. The protein content of common foods is listed below.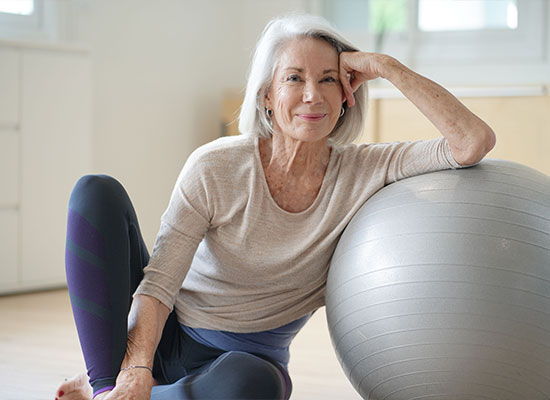 Beef, chicken, turkey, pork, or lamb: 7 grams of protein per ounce.
Fish or tuna fish: 7 grams of protein per ounce
Seafood: 6 grams of protein per ounce
Egg: 6 grams of protein per egg
Soy milk: 7 grams of protein per cup
Beans and lentils: 7 to 9 grams of protein per ½ cup
Nuts and nut butter: 7 grams of protein per 2 tablespoons peanut butter or 4-6 grams of protein per ¼ cup nuts
Milk: 8 grams of protein per cup
Yogurt: about 5 grams of protein per 6 ounces of light yogurt or 12 to 18 grams of protein per 5 ounces of nonfat Greek yogurt
Cottage cheese: about 14 grams of protein per ½ cup
Cheese: about 7 grams protein per ounce
Bread: about 3 grams of protein per 1-ounce slice
Rice: 3 grams of protein per 1/3 cup cooked
Quinoa: 6 grams of protein per 1/3 cup cooked
If you are not sure how to figure out how much protein you should be eating each day, you can call your health insurance company to see if you have coverage to meet with a registered dietitian. A registered dietitian can help you to figure out how much protein you need each day to stay healthy based on your height, weight, physical activity level and current health status.